July 5, 2021
BETA CAE Systems announces the release of the v22.0.0 of its software suite
Regarding the download of ANSA/EPILYSIS/META/CAD data translator v22.0.0 here
---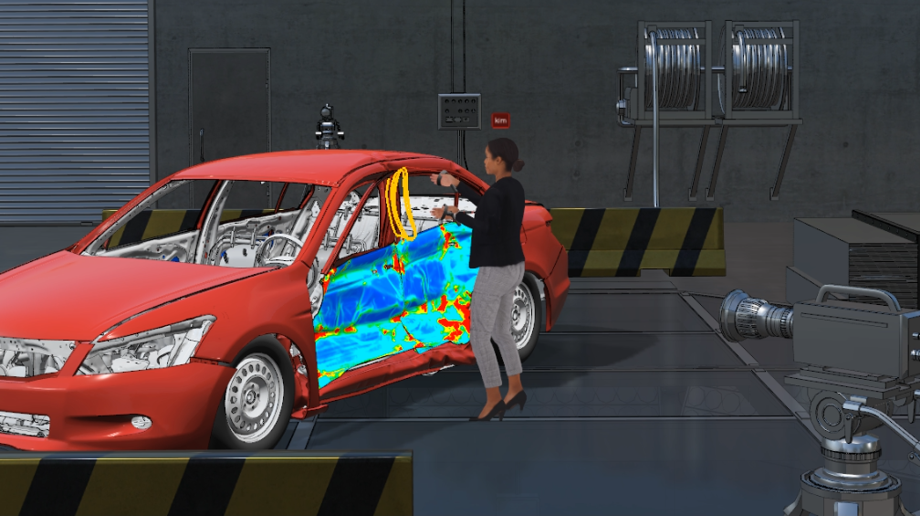 ---
About this release
BETA CAE Systems announces the release of the new ANSA/EPILYSIS/META suite v22.0.0.
Apart from fixes in the detected issues, this version also hosts numerous noteworthy enhancements and implementations.
The most important enhancements and fixes implemented are listed below.
Contents
Enhancements and known issues resolved in ANSA
Enhancements and known issues resolved in EPILYSIS
Enhancements and known issues resolved in META
Enhancements and known issues resolved in Machine Learning Training & Prediction
CAD data translator
Recommended GPU (OpenCL Support) requirements
Virtual Machine Environment

---

Enhancements and known issues resolved in ANSA
Elevated User Experience in ANSA
The "facelift " in ANSA GUI significantly enhances user experience and performance in terms of model handling (draw and highlight of graphic entities). Real-time information is now provided by hovering over entities. The visibility of selected entities upon highlight has been improved while the deck module buttons have been re-organized based on basic steps and structural analysis tools, as well as discipline-specific actions.
On top of that, the total mesh redesign layout, apart from a significantly neater interface, promises fast and effortless generation of the desired mesh, as well as boosted productivity through functions' layout re-organization. The introduction of new mesh toolsets, dedicated for each mesh type, facilitates even more the overall meshing process, and will satisfy even the most demanding user.
Under this version, the Modular Environment comes with brand new functionality in Changeset Management, displaying the complete Changeset history between selected DM objects. In addition, through the multi-variant Subsystems traceability, the relationship between 150% and 100% Subsystem variants can effortlessly be tracked and a comprehensive and fully customizable view of DM Reports in the DM Browser is offered via the newly introduced Results Logbook.
Moreover, constantly providing effective solution to aerodynamics problems, under Volume Meshing, apart from the generation of meshes with billions of elements, new capabilities for domain decomposition lead up to 3 times faster Tetra Meshing, running on multi cores. On top of that, several Hexablock enhancements have taken place in this version, such as 2D boxes and elliptic smoothing, as well as the implementation of automatic template driven turbomachinery Hexablock meshing.
Solutions for electronic CAD, recently introduced in previous ANSA versions, have been further enriched with the introduction of a dynamic wizard, guiding the user through import steps, according to the selected level of detail for board and components, resulting in multiple levels of simplification.
Focusing on Morphing & Optimization, cross section-based Morphing is gaining ground, as modeling functions are capable of loading FE model and updating according to 2D modifications. Moreover, spotweld density can now be successfully preserved and intuitive form modifications allow for movements such as extend, bend, twist or taper, through interactive handlers.
Not to be missed that v22.0.0 comes with common new functionality for Virtual Reality in ANSA & META, such as participation in collaboration sessions in AR with desktop and VR users via HoloLens 2, as well as improved offline speech recognition.

Enhancements and known issues resolved in EPILYSIS
Known issues resolved in EPILYSIS
Continuous enhancements and implementations have taken place in SOL200 Topology Optimization, such as dual casting Manufacturing Constraints with automatically adjustable middle plane and a significant speed up through the application of constraint screening in Beta responses through SOL200 Beta-method speed up. Furthermore, the introduction of new MNF Builder tool offers an intuitive wizard to instantly create modal reduced representations for structures, to be further utilized in ADAMS or KINETICS module of ANSA.

Enhancements and known issues resolved in META
Post-processing capabilities expantion with META
Acknowledging and further promoting META databases' interaction with various solvers, derived results can now be calculated upon reading from META databases that contain the required primary results. Furthermore, while reading results from a METADB file, asynchronous reading of them allows for model interaction (change view, show/hide/identify entities, switch among loaded states, etc.).
Considerable developments have also taken place in the NVH domain, and specifically in Frequency and Transient Response Analyses, with the ability to use an acoustic source as excitation in Modal Response and FRF Assembly Tools. Capabilities in this field have additionally been expanded with Pam-Crash and Optistruct implementation in NVH Tools, since now Modal Response, Modal Model Builder and Modal/FRF Correlation support Pam-Crash results in .erfh5 format and Optistruct results in .h3d format. A highlight not to be missed: Since v22.0.0, Modal Response calculated FRFs, stored in METADB, allow for multiple Random Response analyses.
In the domain of aerodynamics analysis, results on zero-thickness walls come with enhanced visualization, depending on the side of the wall that is viewed at each moment. In a similar manner, focusing on Flow Paths, the generation of Streamlines can now be based on particlesüf flow and their visualization stems from SPH particles. Focusing on the area of turbomachinery, a developed surface can be directly created from an IsoFunction via unrolling, offering better visualization.
Needless to mention, that a plethora of handy features are constantly being implemented in various domains of our software, revitalizing user experience. For example, in v22.0.0 a common Camera Tool in both ANSA & META allows for easier handling of advanced camera settings. Through Buttons Manager, session files or session commands can be added as buttons to custom toolbars. Annotations with multiple pointers facilitate easier model handling and many more.

Enhancements and known issues resolved in Machine Learning Training & Prediction
Advancements in Machine Learning Training & Prediction
Apart from Machine Learning Training and Prediction of 2D and 3D results in ANSA and KOMVOS, Plot and Scalar field respectively, delivered for all states, KOMVOS takes Machine Learning experience to a new level.
With the implementation of DV Prediction for New Models, DV based predictors usage is expanded and can be applied on similar models with Design Variable migration.
Furthermore, a new DOE Study can be created in batch mode from existing Simulation Runs and an existing parametric DOE Study (excel/csv file) can be imported to create a dataset that can be used for Machine Learning operations.

CAD data translator
The supported CAD-data formats handled by the CAD DATA Translators are listed below.
-CATIA V5 (R7 - V5-6R2021(CATIA V5 R31)) [.CATPart],[.CATProduct]
Tesselated data [.cgr]
-CATIA V6 (2011x - 2013x)) [.3Dxml]
-3DExperience (2014 - 2020x) [.3Dxml]
-NX (CT based, Unigraphics V11.0 - NX1957,NX CR 1953) [.prt]
-NX (UG Open based, NX9, NX10, NX11, NX12, NX1847, NX1872, NX1899, NX1953) [.prt]
-Parasolid (all - 32) [.xmt_txt],[.xmt_bin],[.x_b],[.x_t]
-Pro/ENGINEER (from WF3 to WF5),
PTC Creo Parametric 2.0 M140, PTC Creo Parametric 3.0 M020,
PTC Creo Parametric 3.0 M030, PTC Creo Parametric 3.0 M040,
PTC Creo Parametric 3.0 M090, PTC Creo Parametric 4.0 F000
PTC Creo Parametric 5.0 F000 PTC Creo Parametric 6.0 F000 [.prt],[.asm]
PTC Creo Parametric 7.0 F000 [.prt],[.asm]
-SolidWorks (2007 - 2021) [.sldprt],[.sldasm]
-JT (v8.0 - v10.7) [.jt]
-Inventor (2010 - 2021) [.ipt],[.iam]
-CoreTechnologie [.ctp],[.cta]
-Rhino(up to v6) [.3dm] -ACIS(R27) [.sat]

Recommended GPU (OpenCL Support) requirements
The following presents the recommended GPU requirements.:

GPU :NVIDIAüAAMD
OpenGL Version:3.3
GPU memory :1GB
OpenCL Version:1.2


Virtual Machine Environment
-Any instance of an application launched through a Virtual Machine or Machine of NIC Teamng will not share the same license and will occupy the prescribed number of credits.

Regarding the download of ANSA/EPILYSIS/META/CAD data translator v22.0.0 here
---
In case user account and password are unknown,please contact our sales team Email: sales@beta-cae.jp
If you have any technical questions about BETA CAE Systems softwares,please contact our technical team
Email: support@beta-cae.jp

---